Volunteer Week – Terri Hefford
April 18, 2023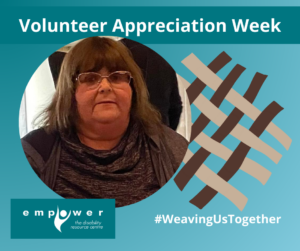 My name is Terri Hefford and I became involved with Empower when I was moving to St. John's and received assistance from Advocacy Services when looking for transportation for disabled people.
I have volunteered with Empower for 7 years and I am currently on the garden committee.
Volunteering gives me a feeling of enjoyment and happiness in helping others. It makes me forget I'm disabled and in a wheelchair, gives me the opportunity to be independent and boosts my self worth.
In my free time I enjoy playing bocce ball, darts, gardening, crafting and helping others.
If it wasn't for the staff and members of Empower I wouldn't be able to do a lot of things that I enjoy doing – they make you feel like part of the family!