Volunteer Week – Charmaine Davidge
April 22, 2023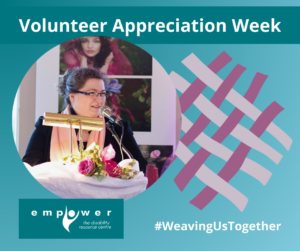 I'm Charmaine Davidge and I have volunteered on and off with Empower for about 13 years, most recently as part of the Inclusion Crew at the Regatta.
As a person with a disability, I value the opportunity to volunteer with a cross-disability organization and to learn from my community. In my free time I enjoy volunteering, spending time with my cat companions, watching NHL hockey, and gardening.
Thank you for acknowledging and appreciating volunteers.